Greater Hartford Women's Conference
March 25, 2014 | 8:30 AM to 4:00 PM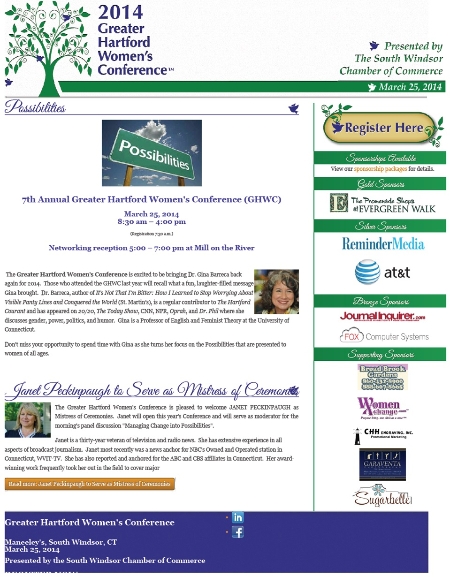 The Greater Hartford Women's Conference is excited to be bringing Dr. Gina Barreca back again for 2014. Those who attended the GHWC last year will recall what a fun, laughter-filled message Gina brought. Dr. Barreca, author of It's Not That I'm Bitter: How I Learned to Stop Worrying About Visible Panty Lines and Conquered the World (St. Martin's), is a regular contributor to The Hartford Courant and has appeared on 20/20, The Today Show, CNN, NPR, Oprah, and Dr. Phil where she discusses gender, power, politics, and humor. Gina is a Professor of English and Feminist Theory at the University of Connecticut.
Take a Cooking Class at Stonewall Kitchen
Now through August
STONEWALL KITCHEN COOKING CLASSES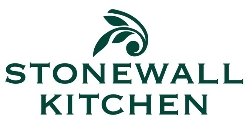 "TASTY TEMPTATIONS"
March 18, 2014 | 6PM to 8PM
Chef Corey Wry
Herb Pizza flatbread with SWK dipping oils • C & M "Buried Under Burger" salad • Blueberry glazed pork tenderloin with green beans and arugula • SWK 'out of the oven' chocolate chip cookies
____________
"SPRING INTO MARCH
March 25, 2014 | 6PM to 8PM
Chef Richard Boccetti
Stilton and walnut leafy green salad • Crab meat cups • Baked stuffed salmon with clam sauce • Tiramisu with strawberries
____________
"OLD WORLD ITALIAN ROASTED CHICKEN DINNER"
April 1, 2014 | 6PM to 8PM
Chef Leslie Ruggiero
Arugula salad • Old World Roasted Chicken • Butternut Squash Risotto • Crepes with fresh berries and a honey drizzle
____________
"A SPRING FLING DINNER"
Coming in April | 6PM to 8PM
Chef Richard Boccetti
Quesadillas with Peach Salsa • Spring salad with cranberries, apple, almonds, pecans, Feta cheese, and Maple Balsamic Dressing • Pork tenderloin with Roasted Apple Grille Sauce • Sweet potato with Farmhouse Chutney • Corn on the cob served as medallions with Spicy Parmesan Corn Seasoning • Pudding cake with Caramel Apple Butter Sauce
____________
"CINCO DE MAYO"
May 2, 2014 | 6PM to 8PM
Chef Leslie Ruggiero
Mango Salsa and chips • Pan Seared Oven Roasted Salmon with Cilantro Lime Dressing • Quinoa with fresh cilantro peppers and avocado tossed with Tomato Salsa • Hot Cocoa Popcakes
__________
"A TASTE OF MAINE"
August 7, 2014 | 6PM to 8PM
Chef Patty Roche
Mussel Chowder • Mixed greens with goat cheese and blueberry vinaigrette • Duo of lobster treats: petite lobster and lobster pie • Lemon-peel pound cake with fresh berries and whipped cream
__________
"ESCAPE TO THE ISLANDS"
August 8, 2014 | 6PM to 8PM
Chef Patty Roche
Pan fried lobster cake • Arugula, prosciutto and grilled asparagus salad with lemon chive dressing • Seafood casserole with fresh buttery-lemon bread crumbs • Wild Maine blueberry cobbler with fresh ginger ice cream
__________
These classes will sell out so register today!
$50.00 Registration Fee per class includes: dinner, printed menu packet, Stonewall Kitchen gift pack and 10% off any store purchases made that evening. Classes are informal with on-going interaction between chef and students. SWK Cooking Class Fees are non-refundable and/or transferable up to 48 hours prior to the scheduled class. No refunds will be issued for class cancellations with less than 48 hours notice. Class must be paid for at the time of reservation.
Stonewall Kitchen is located in Suite 408. See store for details.
Banana Republic
Now collecting gowns for Princess & The Prom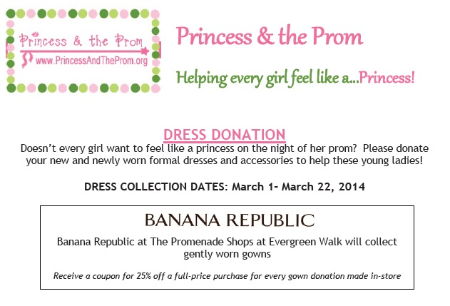 Make your donation at this Banana Republic location to receive a coupon for 25% off a full-price purchase.
Banana Republic is located in Suite 300. 
Brighton Collectibles
Clearly Ear-resistable & FREE!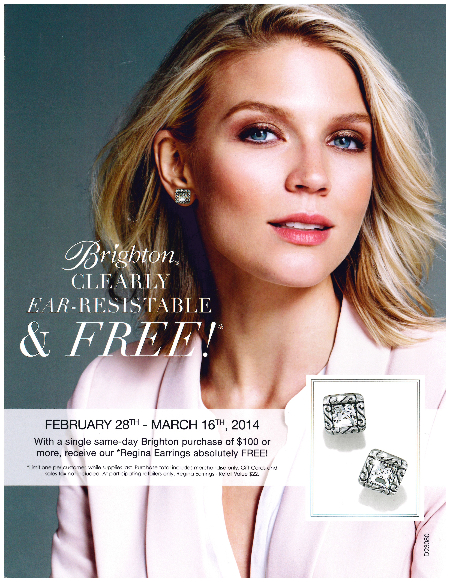 February 28 - March 16
With a single same-day Brighton purchase of $100 or more, receive our *Regina Earrings absolutely FREE!
*Limit one per customer, while supplies last. Purchase total includes merchandise only. Gift cards and sales tax not included. At participating retailers only. Regina Earrings - Retail Value $22.
Brooks Brothers
Men's & Women's Shirt Sale - 4 Days Only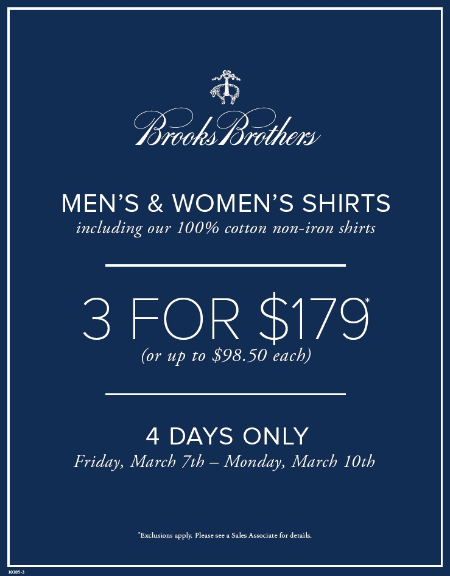 Brooks Brothers is located in Suite 401.
Carter's
Stock Up Sale!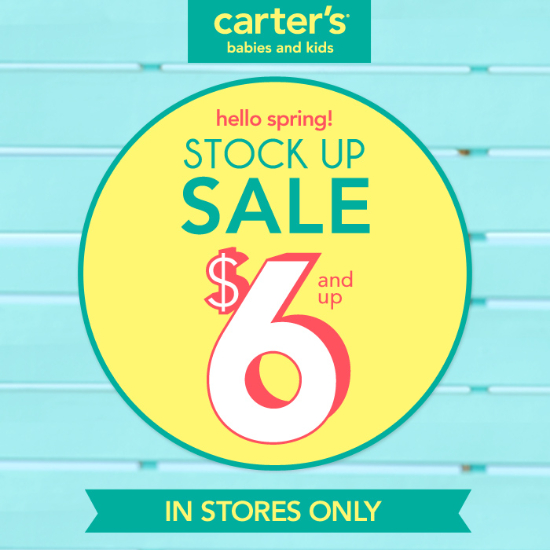 Stock Up on Spring Styles That are $6 & Up!
[More...]
Charles Schwab
Schwab Investing Workshops and Events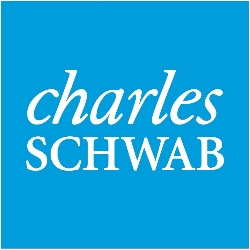 REASSESSING RISK IN YOUR PORTFOLIO
Thursday, March 20 | 5PM
How much investment risk is right for you? Learn how to assess and manage your risk tolerance using diversification.
_______________
ACTIVE TRADER WORKSHOP
Monday, March 31 | 5:30 PM to 6:30 PM
Kenneth Jennings, Regional Manager - Trading Solutions at Charles Schwab, will discuss Risk Management in relation to active trading.
_______________
FIXED INCOME WORKSHOP
Thursday, April 3 | 9:30 AM to 10:30 AM
William Rockett, Fixed Income Market Director, Northeast at Charles Schwab will provide a fixed income update.
Charles Schwab is located in Suite 83. For more information about these workshops please call (860) 838-6222.
Chicos
Everything's On Sale - 25% OFF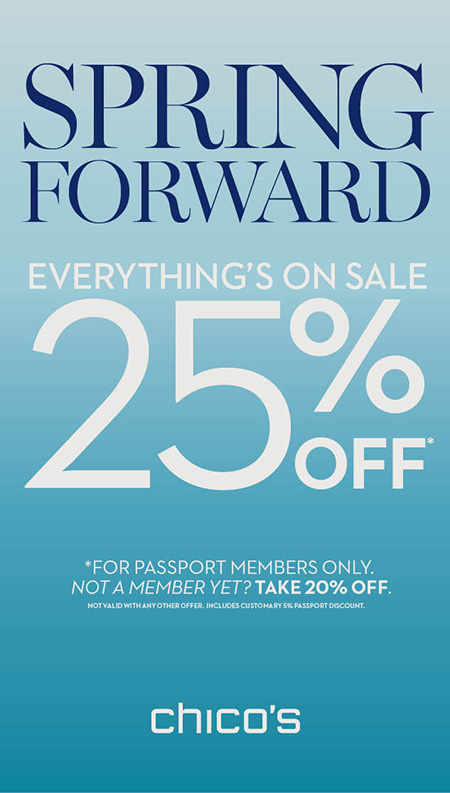 3/3 - 3/11
Spring Forward - Everything's on SALE
25% off* - For Passport members only!
Not a member yet? Take 20% off*

*Not valid with any other offer. Includes customary 5% passport discount.
[More...]
Christopher & Banks
Friends & Family Event!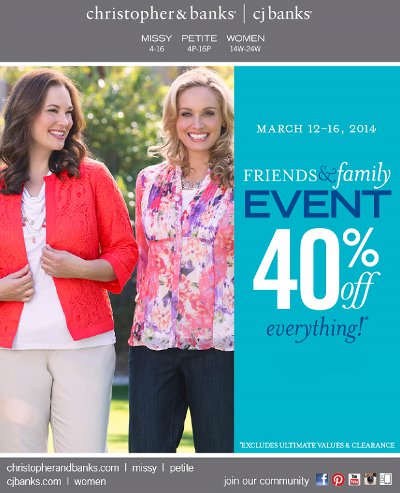 Friends & Family Event!
Visit Christopher & Banks | CJ Banks March 12 – 16th and enjoy 40% off every (excludes clearance & ultimate values).
Eddie Bauer
Travex Event


25% off all Travex 
Plus, enter for a chance to win a trip to the Canary Islands in Spain.
(Sweepstakes from 2/19 through 3/3)
Eddie Bauer is located in Suite 232. See store for details.
J. Jill
$10 OFF Chino Pants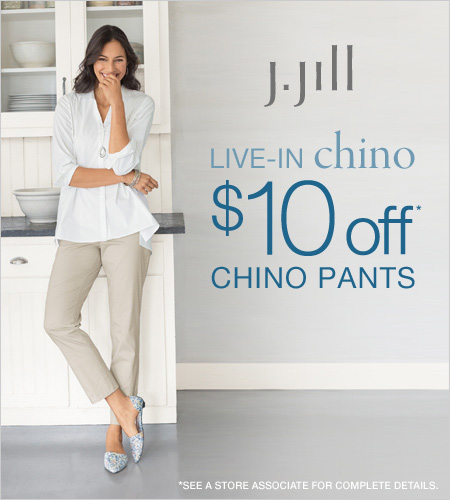 See a store associate for complete details. Offer valid : March 6th - March 9th.
Justice
Save 40% Off your purchase


Save 40% Off your purchase
Offer valid through Monday, 3/17/2014 close of business. Cannot be combined with J-Bucks, Fun Cards, Super Saver Card, entire store events, or any other offer. Redeemable for merchandise only. Not valid on gift cards or on previously purchased merchandise. Not redeemable for cash or cash equivalent. Limit one coupon per purchase. See store for complete details. 
The Limited
30% Off Full-Price Items!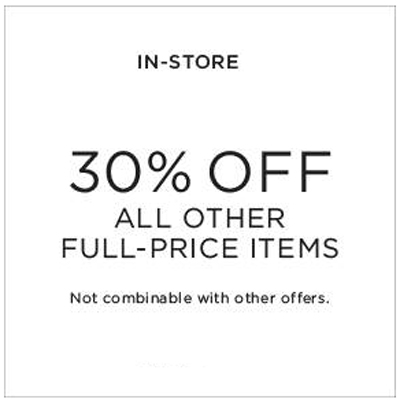 Offer valid in-store for 30% off original ticket prices. Not combinable with other coupons or offers, including Suit Event. Not valid on markdowns, gift card purchases, previous purchases, Style Spectaculars, Style Steals or with associate, student, educator or military discount. Not valid at The Limited Outlet stores. Offer valid for a limited time only. See store for details.
[More...]
O'Live A Little
O'Live A Little Products of the Month - March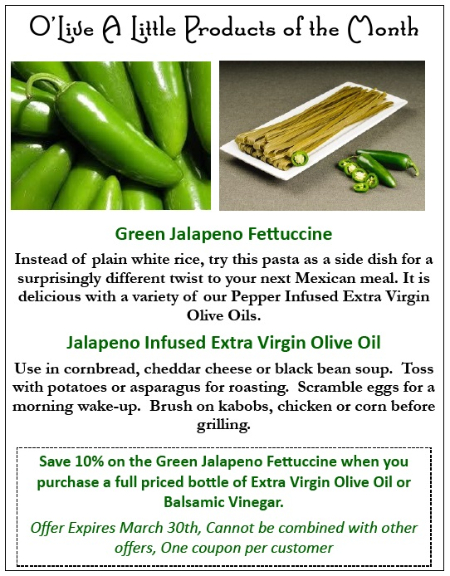 GREEN JALAPENO FETTUCCINE
Instead of plan white rice, try this past as a side dish for a surprisingly different twist to your next Mexican meal. Is is delicious with a variety of the Pepper Infused Extra Virgin Olive Oils.
JALAPENO INFUSED EXTRA VIRGIN OLIVE OIL
Use in cornbread, cheddar cheese or black bean soup. Toss with potatoes or asparagus for roasting. Scramble eggs for a morning wake-up. Brush on kabobs, chicken or corn before grilling.
Be sure to print the coupon above to save 10% on the Green Jalapeno Fettuccine when you purchase a full priced bottle of Extra Virgin Olive Oil or Balsamic Vinegar. Expires March 30, 2014.
O'Live A Little is located in Suite 85. See store for details.
Old Navy
Meet Pixie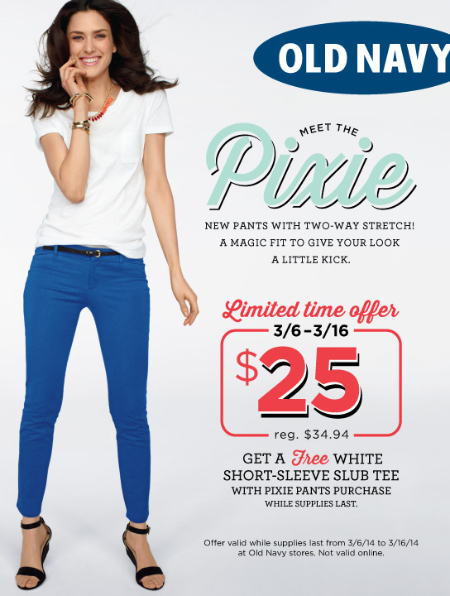 Old Navy is located in Suite 815. See store for details.
[More...]
Pottery Barn
Our Spring Sale Just Got Bigger! SAVE Up to 40%!

Our Spring Sale Just Got Bigger! SAVE Up to 40%!
Take up to 40% Off on our new Spring favorites for a limited time. See store for more details.
Sephora
DISCOVER RADIANT ORCHID AT SEPHORA'S COLOR OF THE YEAR EVENT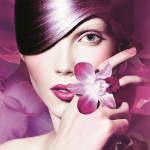 Be among the first to experience its deeply flattering flush and ravishing glow with:

- A custom mini-makeover for eyes, lips, and cheeks from our expert artistry team
- Personalized tricks and techniques to wear the exclusive, limited-edition Color of the Year Collection
- A complimentary lookbook featuring professional steps to master exhilarating new looks at home*
BONUS: take home an official Sephora + Pantone Universe Pouch—free with your personalized Color of the Year consultation and any $25 purchase.*
Friday, March 14 – Sunday, March 16
12 PM – 6 PM each day
*While supplies last.
  Walk-ins welcome.
[More...]
Soft Surroundings
Perricone MD Event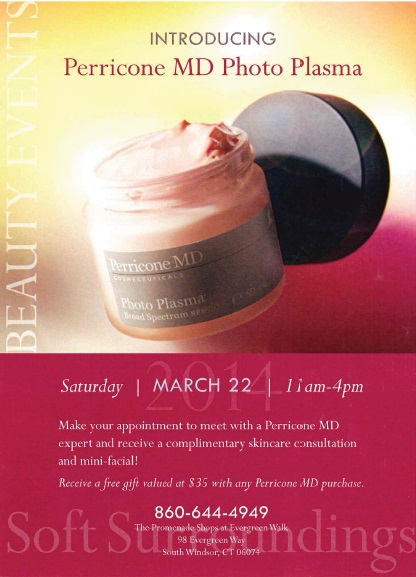 Saturday, March 22 | 11AM to 4PM
Meet with a Perricone MD Expert and receive a complimentary skincare consultation and a mini-facial
Receive a free gift valued at $35 with any Perricone MD purchase.
Soft Surroundings is located in Suite 98. See store for details.
Stonewall Kitchen
Honey Mustard Aioli - March Product of the Month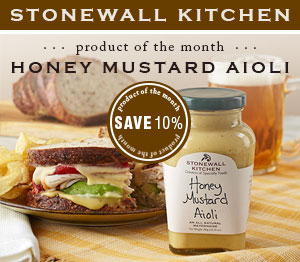 Stonewall Kitchen Honey Mustard Aioli
Save 10% all month long!
Deal valid March 1 - 31, 2014.
Stonewall Kitchen is located in Suite 408. 
Talbots
Sale On Sale: Up to $100 Off!


Sale On Sale: Up to $100 Off!
Offer valid now through 3/9/14 on regular-priced and markdown merchandise purchases only in Talbots retail stores. Discount will be taken at checkout in stores.  No rain checks. No price adjustments. No cash value. Not transferable. Cannot be used at Talbots Outlet or Clearance stores. Associates of Talbots and its affiliates are not eligible. Retirees and corporate accounts of Talbots and its affiliates also are not eligible. See store for more details.
[More...]
Ten Thousand Villages
Join Us for Business After Hours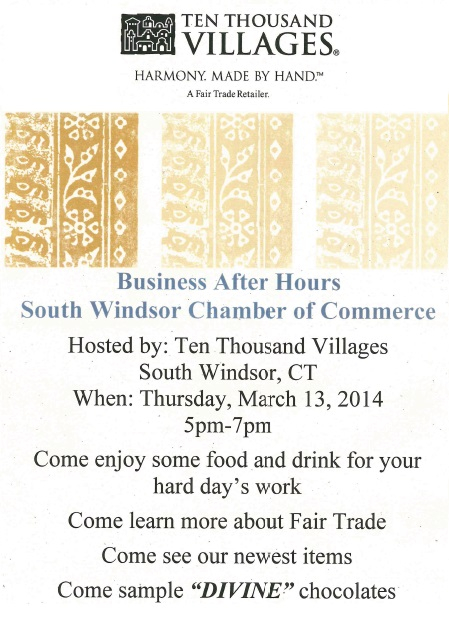 Join Ten Thousand Villages and the South Windsor Chamber of Commerce for Business After Hours
Thursday, March 13 | 5PM to 7PM
- Enjoy food and drink after your hard days work
- Learn more about Fair Trade
- See the newest items in-store
- Sample "DIVINE" chocolates
Ten Thousand Villages is located in Suite 261.
Vermont Wild Goods
NOW SERVING COFFEE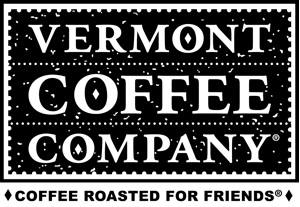 VERMONT WILD GOODS IS NOW SERVING VERMONT COFFEE COMPANY ROASTED COFFEE IN THE FOLLOWING ROASTS:
- Dark
- Medium
- Mild
- Decaf
Stop in for a cup today!
Vermont Wild Goods is located in Suite 105. See store for details.