Events
November 28 - December 13, 2014

Don't Miss New England's Largest Gingerbread Festival
November 28 - December 13
FESTIVAL HOURS:
Mondays, Thursdays & Fridays: 10 am - 8 pm
Saturdays & Sundays: 10 am - 6 pm
(CLOSED Tuesdays and Wednesdays)
The Wood Memorial Library and Museum will once again deck its halls and throw open its doors for one of the largest Gingerbread House Festivals in all of New England. This event is FREE and provides a great opportunity to make lasting holiday memories with your family and friends.
Local artisans and bakers, experts and beginners alike show off their creative talents in a vast array of candy covered houses, trains and in some cases entire villages. Anyone is welcome to submit a gingerbread house and sign-ups are starting now, visit our website for more information. With holiday music playing in the background and the spicy aroma of gingerbread in the air, the library will provide the perfect holiday venue for showcasing the sugary artistic creations. "Ye Olde Gingerbread Shop" will also be open offering the opportunity to take home a bit of the magic with many holiday themed gifts and treats.
This festival is a major fundraiser for The Wood and supports our educational programs and exhibitions; last year we saw almost 4,000 visitors come through our doors and this year we are hoping for even more. So start the holidays off right with a classic seasonal event that is fun for both the young and the young at heart!
CLICK HERE to find out more about the festival by visiting our website.
Saturday, December 6, 2014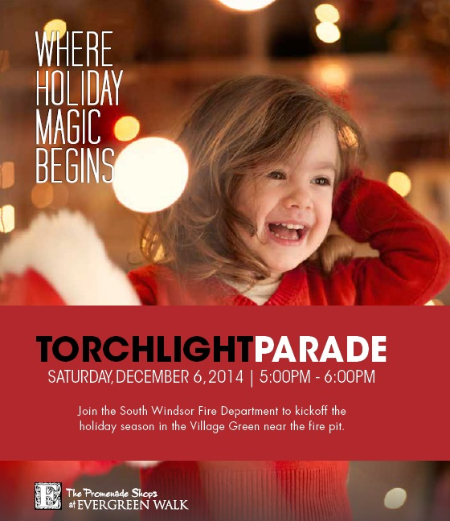 TORCHLIGHT PARADE
Saturday, December 6, 2014 | 5:00 PM - 6:00 PM
Join the South Windsor Fire Department to kickoff the holiday season*. Come out and enjoy their Annual Torchlight Parade.
Meet in the Village Green near the fire pit.
Children 12 years and under will receive a holiday themed gift.
*Parade will step off at approximately 5:30 PM.
November Cooking Classes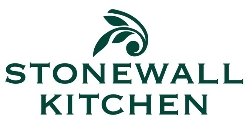 NOVEMBER 18, 2014
The Caribb-Italia
With Chef Jay
Ginger Guacamole • Italian Holiday Tower Salad • Grilled Sugar Cane Mahi Mahi Fritters • Jerked Pernil with Gorgonzola Bourbon Cream Sauce • Sweet Coconut Milk Cheesecake
____________________
DECEMBER 2, 2014
FALL FLAVORS
With Chef Adam Dorey
Maple Bacon and White Fig Crostini • Warmed Goat Cheese Crouton • Fig and Prosciutto Salad • Butternut Squash Ravioli with Apple Butter and Maple Balsamic Reduction • Roasted Apple Cider Pork Loin • Pumpkin Whoopie Pies with Whipped Cream
____________________
What to Expect?
We partner with local chefs who spend an evening demonstrating their skills, sharing fantastic tips and creating wonderful dishes. Classes are informal with ongoing interaction between chef and students. Cooking classes are demonstration classes only and there are no "hands on" classes.
Cooking Classes are $50 (+tax) and include:
A delicious meal from appetizer to dessert, printed menu packet, Stonewall Kitchen product samples, 10% off any store purchases made the night of the class (cooking classes are not included).
Stonewall Kitchen is located in Suite 408. Please call the store directly at (860) 648-9215 to make reservations.