Events
Now through October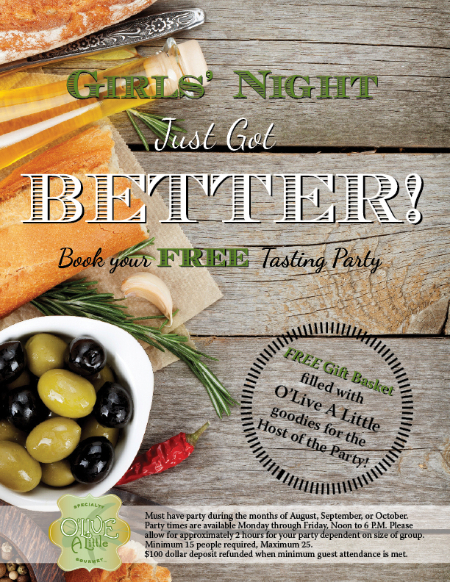 Book your FREE tasting party with O'Live A Little during the months of August, September or October and the host/hostess will receive a free gift basket filled with O'Live A Little's gourmet goodies.
Party times are available Monday through Friday between 12 - 6 PM and require a minimum guest count of 15 people.
A deposit of $100 is required at time of booking and will be refunded once the minimum guest count is reached.
CLICK HERE to book your event
O'Live A Little is located in Suite 85.
Sundays through August 31


Sunday, August 10 | 11:00 AM | Extra Virgin Olive Oil
We're highlighting our extensive collection of extra-virgin olive oils certified by the Califonia Olive Oil Council by educating cooks and shoppers on the difference between olive oils, how to taste for quality, and how best to use these fresh, flavorful oils.
_____
Sunday, August 17 | 11:00 AM | Celebrating the Harvest: Apples
Usher in the bounty of a brand new season with crisp apples! Learn how to make the most of his year's apple harvest. This class will teach you which apples are ideal for cooking, baking or simply enjoying raw as well as teach you how to make delicious apple inspired dishes from homeade applesauce and apple cake to fresh-pressed cider.
_____
Sunday, August 24 | 11:00 a.m. | Celebrating the Harvest: Artichokes
Celebrate the second harvest of this spiky seasonal vegetable - the artichoke. In this class, we will teach you how to prep artichokes for both cooking whole as well as using the rich artichoke heart.
We're pleased to offer free Technique Classes at your local Williams-Sonoma store. Class sizes are limited.
Williams-Sonoma is located in Suite 256. See store for details.