Events
March 25, 2014 | 8:30 AM to 4:00 PM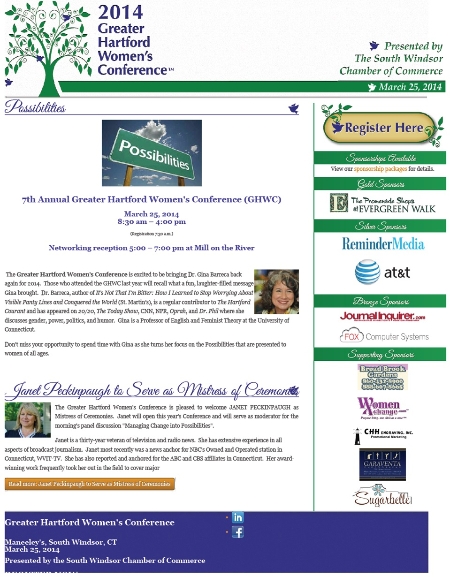 The Greater Hartford Women's Conference is excited to be bringing Dr. Gina Barreca back again for 2014. Those who attended the GHWC last year will recall what a fun, laughter-filled message Gina brought. Dr. Barreca, author of It's Not That I'm Bitter: How I Learned to Stop Worrying About Visible Panty Lines and Conquered the World (St. Martin's), is a regular contributor to The Hartford Courant and has appeared on 20/20, The Today Show, CNN, NPR, Oprah, and Dr. Phil where she discusses gender, power, politics, and humor. Gina is a Professor of English and Feminist Theory at the University of Connecticut.
Now through August
STONEWALL KITCHEN COOKING CLASSES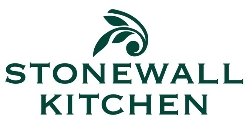 "TASTY TEMPTATIONS"
March 18, 2014 | 6PM to 8PM
Chef Corey Wry
Herb Pizza flatbread with SWK dipping oils • C & M "Buried Under Burger" salad • Blueberry glazed pork tenderloin with green beans and arugula • SWK 'out of the oven' chocolate chip cookies
____________
"SPRING INTO MARCH
March 25, 2014 | 6PM to 8PM
Chef Richard Boccetti
Stilton and walnut leafy green salad • Crab meat cups • Baked stuffed salmon with clam sauce • Tiramisu with strawberries
____________
"OLD WORLD ITALIAN ROASTED CHICKEN DINNER"
April 1, 2014 | 6PM to 8PM
Chef Leslie Ruggiero
Arugula salad • Old World Roasted Chicken • Butternut Squash Risotto • Crepes with fresh berries and a honey drizzle
____________
"A SPRING FLING DINNER"
Coming in April | 6PM to 8PM
Chef Richard Boccetti
Quesadillas with Peach Salsa • Spring salad with cranberries, apple, almonds, pecans, Feta cheese, and Maple Balsamic Dressing • Pork tenderloin with Roasted Apple Grille Sauce • Sweet potato with Farmhouse Chutney • Corn on the cob served as medallions with Spicy Parmesan Corn Seasoning • Pudding cake with Caramel Apple Butter Sauce
____________
"CINCO DE MAYO"
May 2, 2014 | 6PM to 8PM
Chef Leslie Ruggiero
Mango Salsa and chips • Pan Seared Oven Roasted Salmon with Cilantro Lime Dressing • Quinoa with fresh cilantro peppers and avocado tossed with Tomato Salsa • Hot Cocoa Popcakes
__________
"A TASTE OF MAINE"
August 7, 2014 | 6PM to 8PM
Chef Patty Roche
Mussel Chowder • Mixed greens with goat cheese and blueberry vinaigrette • Duo of lobster treats: petite lobster and lobster pie • Lemon-peel pound cake with fresh berries and whipped cream
__________
"ESCAPE TO THE ISLANDS"
August 8, 2014 | 6PM to 8PM
Chef Patty Roche
Pan fried lobster cake • Arugula, prosciutto and grilled asparagus salad with lemon chive dressing • Seafood casserole with fresh buttery-lemon bread crumbs • Wild Maine blueberry cobbler with fresh ginger ice cream
__________
These classes will sell out so register today!
$50.00 Registration Fee per class includes: dinner, printed menu packet, Stonewall Kitchen gift pack and 10% off any store purchases made that evening. Classes are informal with on-going interaction between chef and students. SWK Cooking Class Fees are non-refundable and/or transferable up to 48 hours prior to the scheduled class. No refunds will be issued for class cancellations with less than 48 hours notice. Class must be paid for at the time of reservation.
Stonewall Kitchen is located in Suite 408. See store for details.